****2019****
NEW GERMAN WIREHAIRED POINTER LITTER 
DOB 03/09/19
MALE PUPPY ONLY AVAILABLE 
Photos available on request 
ALL IMPORTED VERY SUCCESFUL BLOODLINE 





****SIRE****
OUR NEW GSP IMPORT FROM NORTH CAROLINA 
"RUSH"
AMERICAN CHAMPION FIELDFINE GOLD RUSH (IMP USA)
Fabulous pedigree / titled in the USA at 9mths of age winning with all MAJORS
including BOB wins over specials.
Beautiful outgoing nature typical of this famous USA Bloodline.
We are expecting lovely puppies from this male.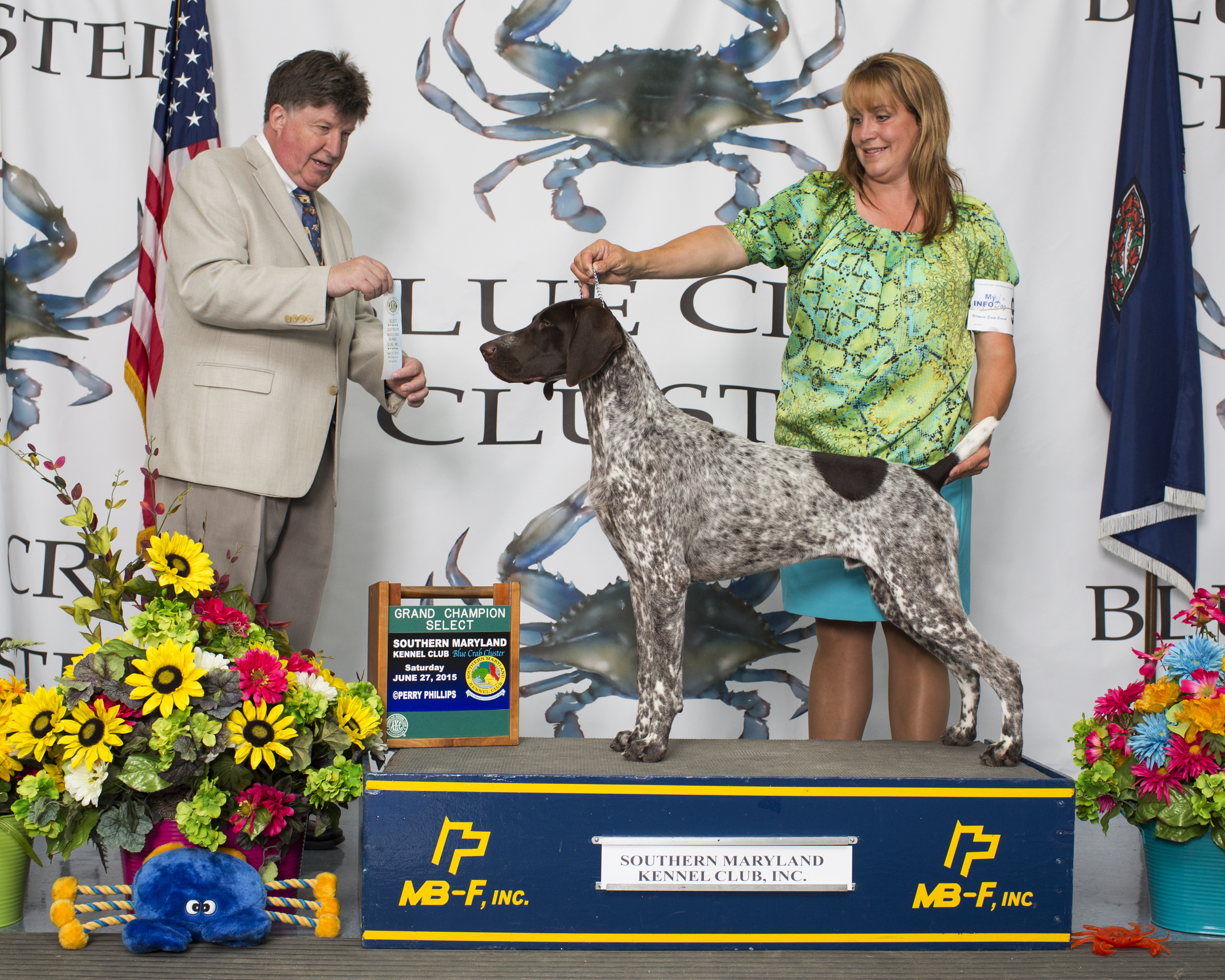 DAM
CH MORUADA GLITTER BUG 
IMPORTED CHAMPION BLOODLINE & Dam of Champion progeny. 

Puppies will be available after 8wks of age. DEPOSITS are taken once the puppies are born.
Puppies can be viewed after they are vaccinated at 6wks of age.



enquires to Sue Wright   M 0413049854
moruada@ozemail.com.au




*** 2015 ***
*~* GERMAN WIRE-HAIRED POINTER *~*
Litter due late November 2015
***OUR FIRST LITTER OF GWP's SINCE 2011***

**SIRE**
AM CH / INT CH / INT JUNIOR CH 
HEYWIRE N' HIGHFIELDS BEST BANG FOR THE BUCK (imp USA)
Our new import to Australia BUCK attained his AMERICAN CHAMPION TITLE ALL MAJORS,
 his INTERNATIONAL champion titles in ONE weekend in the USA
winning a GROUP 1 USA
His bloodline is sensational & his nature is the same.
HEALTH CHECKS
Hip score 0 : 0 Elbows 0:0
Thyroid Normal 
vWD:Clear
DNA: Profiled
Current Clear Eye cert -2015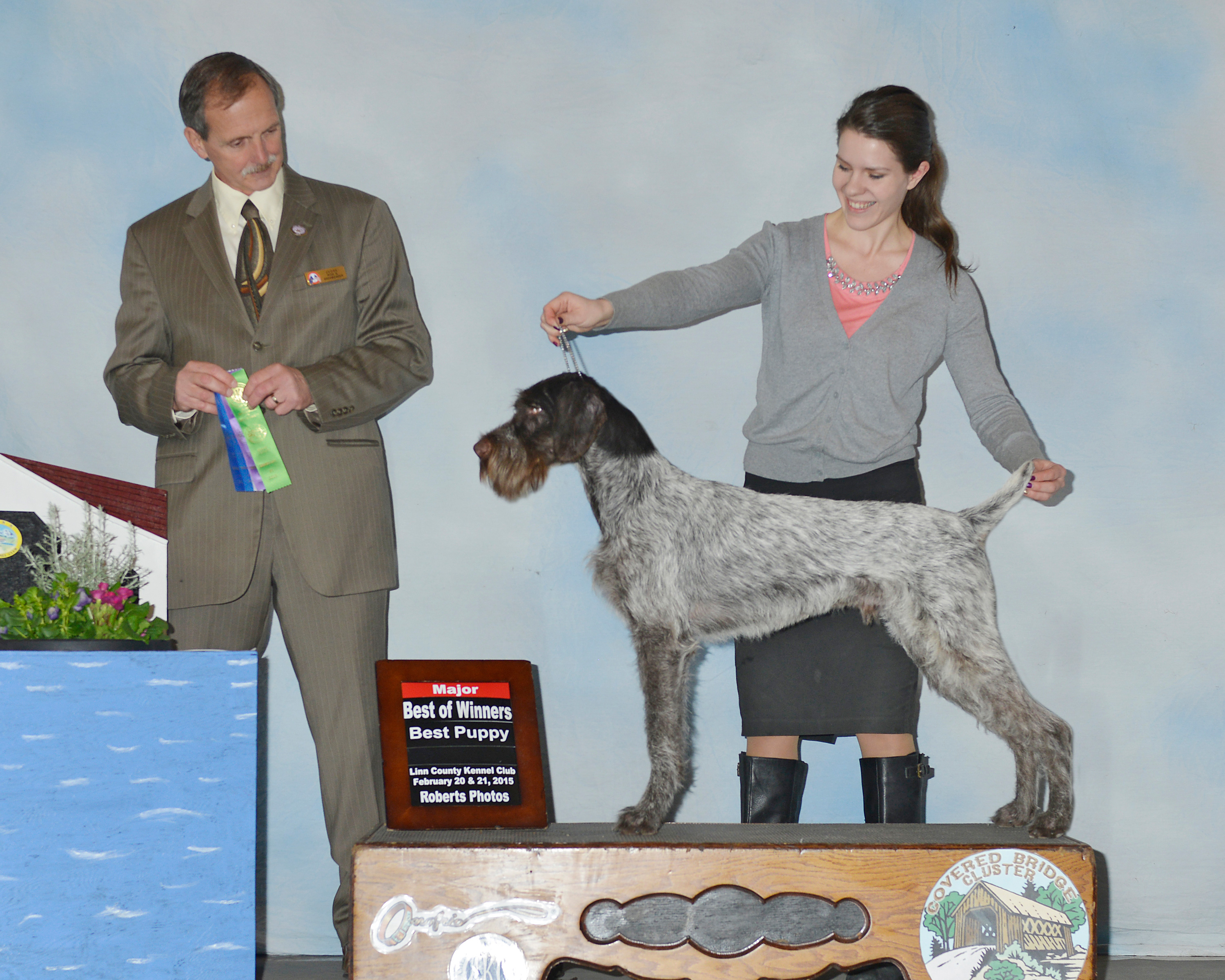 Dam

CH MORUADA DOWN TO THE WIRE 
ANDI
Andi is a daughter of our beautiful USA import ANDRE her pedigree contains more USA NATIONAL BIS
winners than any other GWP in Australia. 
Her pedigree is fabulous &  Andi has a very loving nature.
Andi loves showing & retrieving.
This will be Andi's first litter of Puppies
  
A beautiful bitch with fabulous Movement & very good angulation.
Health Checks 
Hips 0 : 1
Elbows 0 : 0
Thyroid Normal
DNA Profiled
Current Clear Eye Cert - 2015




THIS GWP LITTER IS NOW SOLD 10/1/16..

We will take deposits on this litter once they are born.

Puppies from this litter will be available for new homes end January 2016

Family companion puppies (Limit Register = to be desexed)  will be available to the right homes.

Show puppies (Main Register) only on Contract or Co- Owned.

OUR PUPPIES ARE BORN AND RAISED IN A FAMILY / HOME on acreage ENVIRONMENT
  REARED ON PREMIUM ADVANCE PUPPY FOOD
ALL PUPPIES ARE WORMED (4TIMES) / HEART WORM PREVENTION TREATED / 
VACCINATED / MICROCHIPPED is REGISTERED

when they leave us at 8 wks of age.
We can ship O/S & interstate safely using KCR PET TRANSPORT


Call or email for more info
Sue Wright / Mobile  0413049854
moruada@ozemail.com.au


**GENUINE ENQUIRIES FOR LOVING FAMILIES ARE MOST WELCOME**


~*~*~*~*~*~*~*~*~*~*



 



Moruada puppies usually excell as family companions & in the Showring also
Obedience / Field & Retrieving / All Gundog work / Agility /Sledding.
Our puppies are reared on Premium Foods all are Health checked, Microchipped,Vaccinated, 
Parasite free & Heartworm Prevention treatment
started prior to sale.
Selected puppies are available to approved show homes on Main Register & co owned only.
Our Pet / Family Companion puppies are all sold on the
Limit Register = No Show / No Breeding / to
be desexed between 8 to 12 mths of age.
We welcome enquiries for family companion puppies to loving homes.
Contact Sue for Moruada Puppies
Ph 02 96066174 or M 0413049854