We have so many "Golden Oldies" after 31 yrs of breeding that its impossible to mention all.

These are some of the great ones ! 

Our header photo above is DUAL CH (O) MORUADA JETSETTER  "Eva"
She is a daughter of Ch.Wildheart Gratin sired by a son of
Ch. Moruada Wotta Krakka.
Eva as she was known, won every possible
obedience, tracking, agility title available + her show Championship.
Owned by Ian & Jenni Stanniforth & trained to
perfection by Ian.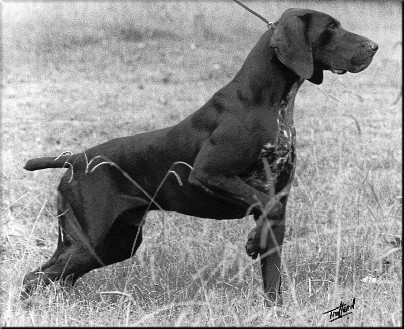 CH MORUADA WOTTA KRAKKA
sired by Ch. Wildheart Nennen CD
out of Ch. Benanee Bongaree (Imp UK in Dam). 
Great Sire....
His great claim to fame was his progeny 23 Champions
& we lost him at age 7 when he was just getting started as a sire.
His progeny won BIS All Breeds, Royal BOBs, BIGs,
BIS Specialtys Top Show Dog & Bitch Awards.
Krakka was graded Excellent by Her Klaus Keifer (Germany)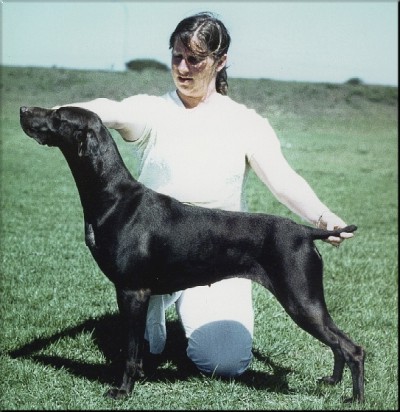 CH WILDHEART GRATIN  - "Greta"
Fabulous mover & a great show bitch.
One of the foundation bitches for Moruada.
She won 1987 Challenge pts, Show Bitch Of The Year
6yrs in succession 17 Best In Gundog Groups, Sydney Royal BOB 1983.
Many In Show Awards & Multi RU BIS All Breeds. 
The best GSP Liver bitch I have ever laid eyes on.
Greta was the dam of 12 live puppies, 11 of which attained Champion status.
Deeply missed..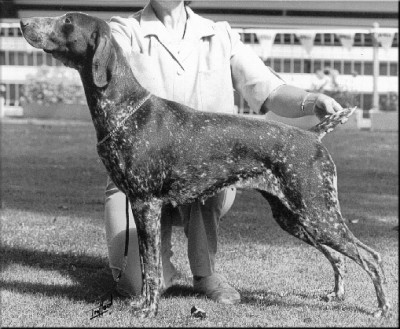 CH MORUADA WISH ME WELL - "Heidi"
Another of our great Show Bitches sister to Krakka.
Great mover & loved to show.
Twice winner of Show Bitch Of The Year.
Melbourne Royal & Sydney Royal Best of Breed CCs
Brisbane & Canberra Royals.
BIS Specialty winner & 17 Best in Group Awards
Multi RUBIS
Well over 1,000 points. 
Another who is deeply missed..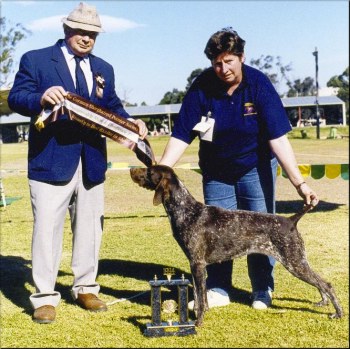 Ch. MORUADA ANTS PANTS - "Leisel"

A specialty CC & RUBIS winner.
Dam of 5 champions 4 in one litter which was sired by
Am & Can Ch. Snowcreeks Stone Mountain (USA) .
All 4 pups excelled at Specialty level winning BIS, RUBIS,
& many classes in show .
Aust & Am Ch. Moruada Stoney Creek Road (AI)
won also at Specialty level in the (USA). 
Also dam of our International Ch (Am /Aust / Canadian) 
Moruada Ants In My Pants (exported to USA) "Lucy"
is owned by dear friends  Eugene Scoles & John & Jan Bradfeldt 
Snowcreek GSPs - USA

Leisel's progeny have produced 8 Champions to date.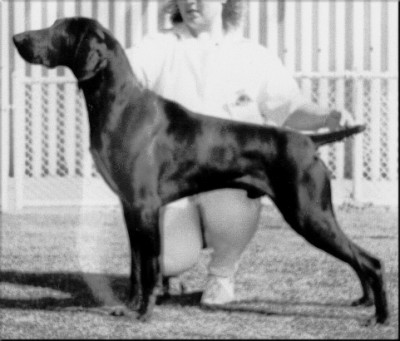 Ch.MORUADA MANHATTAN - Matty
Sire Krakka ......Dam Greta
Another who sadly missed the Grand Ch Title because of age.
He was well over 1000pts.
Winner of 10 Best in Show awards 8 All Breeds 2 Specialty Top Showing GSP
in SA for a number of years. Sire of many Champions,
his progeny excell in Obedience including one who was the top obedience dog at
Melbourne Royal 6 yrs in succession.
He enjoyed his retirement at home with his breeder & lived to 11yrs of age. 
Thankfully we do have Frozen Semen from Matty...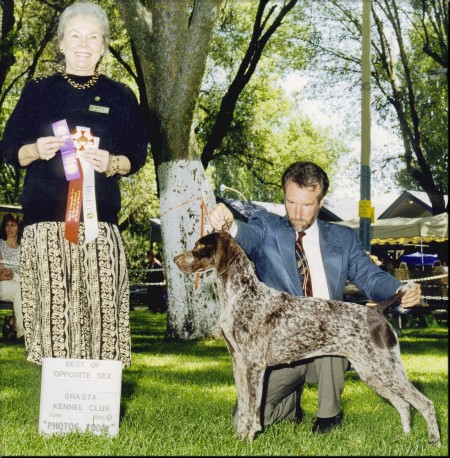 International Champion: MORUADA ANTS IN MY PANTS

Titles in Aust, America& Canada. Exported to the USA.
Owned by Eugene Scoles & JBradfeldt (Oregon USA)

Not shown until she was 9 mths old Lucy attained her Championship by 12 mths.
Along the way winning BOB at the Spring Fair.
An In Show & In Group winning GSP prior to her export to USA in Dec 96.
Lucy attained her Am & Can Championships easily.

Sire : Ch. Moruada Night Rider
Dam: Ch. Moruada Ants Pants. 


Many more dogs have gone but never forgotton, lots of great Champions & producers of Champions.

Much loved family members. Some more are mentioned below.

CH MORUADA LONESOME DOVE  - dam of 7 champions

CH WILDHEART GRAFIN -  our 1st GSP & dam of 3 champions

CH MORUADA NIGHT RIDER - sire of many champions top show dog

CH MORUADA JEWEL OF THE NILE - dam of champions

CH MORUADA  LEMON SOUFFLE - dam of champions

CH MORUADA CHOCOLATE MOUSSE - dam of champions

CH KLUGERHUND BELLE OF BOOTON - BIS  winner &  dam of 5 champions

CH MORUADA LEMON MERINGUE - great show bitch

CH MORUADA STONE MOUNTAIN (AI) - top sire

CH MORUADA STONE THE CROWS (A I ) - Specialty BIS winner

CH MORUADA RODEO DRIVE - Sadly died suddenly,  in his sleep aged 8yrs. Sire of 9 Champions.

AM & NAT BISS & MULTI 28 BIS AUST GRAND
CH MINADO'S AMERICAN EXPRESS (IMP USA) - AUSTRALIA'S ALL TIME
# 1 GSP SHOW DOG & SIRE 38 Champions will more on the way.
(A legend in his own lifetime)

CH.MORUADA NEWS BREAK - sire of many Champions

All Deeply Missed