** Our new German Wirehaired Pointer**
  Import has arrived -  DOB  08/08/08

ANDRE


AMERCIAN & AUSTRALIAN CH
MOUNTAIN VIEWS NATIONAL AFFAIR WITH RLB - JH (imp USA)


Handled Exclusively By Blake Wistuba 


Expertly Groomed By Dean Freshwater



Multiple Group & In Show Awards

Thankyou to Claire Wisch Mt Views GWP's for sending us such a beautiful 
German Wirehaired Pointer !



ANDRE IS EXCLUSIVELY SPONSORED BY ADVANCE PREMIUM DOG FOOD 



Colour - Light Roan
(Light Roan is a mixture of Dominant White & Brown Roan)

Andre' pictured here below winning Best of Winners for a 3pt Major 1st weekend out !
At Age 6mths & 1wk - USA puppys are not shown until they are 6mths old.
Huge Thankyou to Claire Wisch - Mountain View /Helen Whitt - Ripsnorters /
Roger Bultman - RLB - GWPs in the USA
for breeding this superb puppy.
Huge Thanks to my dear friends Dianna James & Cary James - Snowcreek GSPs USA for taking on this lovely male for Moruada.
Dianna your just the best - thankyou for showing Andre' to win his AKC Champion title.

Thankyou also to Kate Raymond - Valache GSPs SA for showing Andre' to his 1st Major win.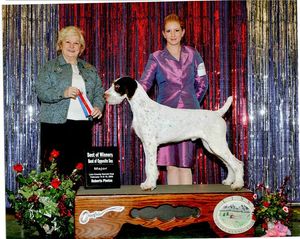 Sire Multi BIS & NAT BISS AM CH. R L B's MAC THE KNIGHT (Master Hunter) (USA) Mac
2004/ 2005 GWP NATIONAL BIS WINNER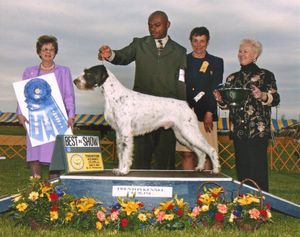 Dam Multi BIS & NAT BISS MOUNTAIN VIEWS NEXT STRIKE (USA) Mallory
2007 GWP NATIONAL BIS WINNER
America's top producing GWP dam..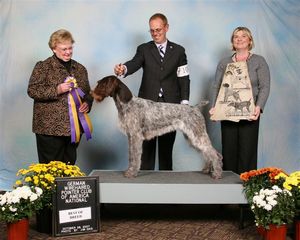 Mallory is the dam of the Current # 1 GWP in America
MULTI BIS & NAT BISS AM CH. RIPSNORTERS MT VIEW LOOKOUT J H (USA)
2008 /2009 GWP NATIONAL BIS WINNER
Scout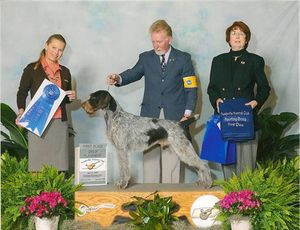 Andre' is a product of two top show & two top producing German Wirehaired Pointers.
From the USA's most successful breeders & exhibitors of German Wirehaired Pointers.
BOTH  Andre's
Parents are GWP of America National BEST IN SHOW winners
BOTH  Andre's
Parents are Top Producers & are also Multi Best In Show winners ALL BREEDS.
Andre passed his Hunt Test Trials in early June 09 with 4 straight tests.
His scores were....outstanding,  below scores are out of 10.
1. Hunting: 8
2. Bird Finding Ability: 10
3. Pointing: 9
4. Trainability: 9
Andre is a serious bird dog.
We are expecting BIG things from this fabulously bred GWP...who is already a sensation in the USA.
Most importantly this puppy has a fabulous outgoing nature with other dogs & people, including children.
Photo of Andre' below doing what he is bred to do - Pointing / Hunting  ..
A .proven show dog who hunts with great style.
Andre' ...
Thankyou also to Dianna's husband Carey for Hunt Test Trialing Andre to win his AKC J H title.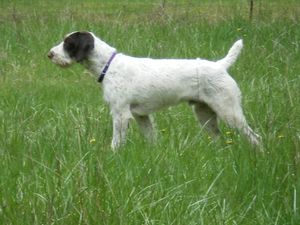 Andre at 9mths of age  - photo taken by myself at the
GSP Nationals in Denver Colorado
May 2009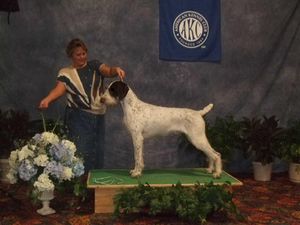 Andre' below now 11mths old - with Dianna & the Judge Mrs P Davern USA
Winners Dog & Best Opp Sex in Breed & New Champion.
Photo taken in the ring 19th July 2009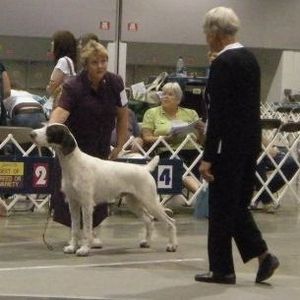 Andre aged 14 mths pictured in Australia November 2009  with his new Handler Blake Wistuba.....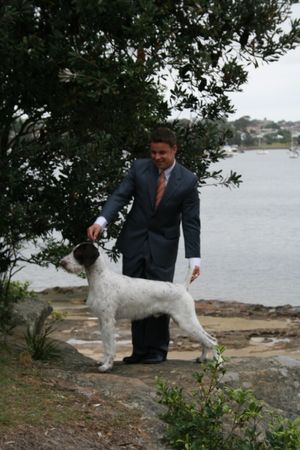 Andre will make his show debut down under late
November 2009 & will be campaigned through out 2010.
We can't wait !!
 AM & AUST CH. MOUNTAIN VIEWS NATIONAL AFFAIR WITH RLB (USA) JH